Welcome to Wise Mama - Where Nourishment Meets Convenience!
At Wise Mama, we are passionate about promoting a healthy and balanced lifestyle for urban Indian families. We understand the challenges faced by modern Indian women who bear the responsibility of cooking and providing nutritious meals for their loved ones while juggling numerous other roles. With this in mind, we have embarked on a journey to revolutionize the way families approach nutrition and wellness.
Our Story
The story of Wise Mama begins with a vision to reconnect people with the wholesome goodness of millets. Millets, often referred to as ancient grains, have been a staple in Indian cuisine for centuries. They are packed with essential nutrients, fiber, and natural goodness that nourish the body and support overall well-being. However, in the fast-paced urban lifestyle, millets have gradually lost their prominence, replaced by less nutritious alternatives.
Driven by a desire to revive the traditional wisdom of millets and provide a convenient solution for modern families, Wise Mama was born. Our founders, inspired by their own experiences as working mothers, embarked on a mission to create nutritious, ready-to-cook millet-based products that cater to the needs of urban Indian households.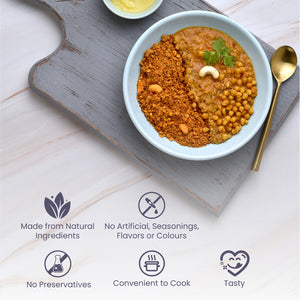 Our Philosophy
At Wise Mama, we believe that nourishment should never be compromised for convenience. We strive to strike the perfect balance between the two, offering products that are not only easy to prepare but also provide the essential nutrition required for a healthy lifestyle. Our products are crafted by combining modern nutrition science with Ayurvedic food science, ensuring that they meet the unique nutritional requirements of urban Indian families.
Our Range of Products:
Wise Mama takes pride in offering a diverse range of ready-to-cook millet-based porridges and one-bowl meals. These versatile offerings are suitable for any occasion - be it a nourishing breakfast, a quick and wholesome lunch, or a satisfying dinner. With just six minutes of cooking time, our products provide a convenient solution for busy individuals who value nutrition without compromising on taste.
We carefully source the finest quality millets, handpick natural ingredients, and use traditional recipes with a touch of innovation to create our delicious and nutritious porridges. Each product is thoughtfully crafted to provide a well-balanced meal that supports your health and well-being.
Our Commitment to Quality
At Wise Mama, quality is at the core of everything we do. From sourcing ingredients to the final packaging, every step of our production process is closely monitored to ensure that you receive only the best.
We are committed to sustainability and environmental consciousness. We strive to minimize our ecological footprint by adopting eco-friendly packaging materials and promoting responsible farming practices.
Aparna Bhatnagar
Founder
Aparna is the mama behind Wise Mama! An entrepreneur and a mom to a super active 4-year-old and a refuse-to-grow-up cocker spaniel, she's on a journey to find sustainable and healthy food choices.
Wise Mama emerged from her own struggles with finding wholesome, nutritious and easy-to-cook food that was not based on passing fads but was based on time-tested food science principles of Ayurveda and western nutrition science.
Aparna is also an alumna of Lady Shri Ram College, Delhi School of Economics, and IIM Ahmedabad.
Before starting Wise Mama, Aparna founded an online marketplace for sustainable products called GreenNGood.com
View Aparna on LinkedIn
Chef Souvik Gupta
Culinary Expert and Advisor
Chef Souvik adds the magic to Wise Mama dishes and makes them taste so delicious! He has over 20 years of experience as a professional chef with some of the top food companies in India and a passion for creating great food. His attention to detail at every step of creating Wise Mama has helped us bring out the best taste, texture, and aroma in each of our dishes.
And btw...Souvik also makes the best Biryanis in Bangalore, if not India, in his own venture - "Dum Durrust"
Dr. Sruthi Thejus
Ayurveda Expert and Advisor
Dr. Sruthi is our Ayurveda expert and guide. Ayurveda has been part of her life from a very young age and her love for this ancient holistic science drove her to pursue BAMS from Goa University. She has been a practicing Ayurveda Doctor for over 10 years now.
During her academics and career, she has worked under the guidance of many Ayurveda luminaries.
Her areas of interest include dietetics and nutrition, lifestyle management and Ayurveda cosmetology.
Dr. Sruthi is also the Founder of Enliven Soundarya, and co-founder of Enliven Veda Retreats
Join the Wise Mama Family:
We invite you to embark on a journey towards nourishment and wellness with Wise Mama. Let us empower you to provide a balanced and nutritious meal to your family while freeing up your precious time.
We are excited to have you as part of the Wise Mama family, where nourishment meets convenience. Explore our range of products, discover delicious recipes, and join us in embracing the goodness of millets for a healthier and happier you.
Remember, at Wise Mama, we are not just a brand, but a community that supports and uplifts each other on the path to wellness. Together, let's make every meal a wise choice for a healthier future.
Nourish. Delight. Thrive. With Wise Mama