Desi Masala Millet Porridge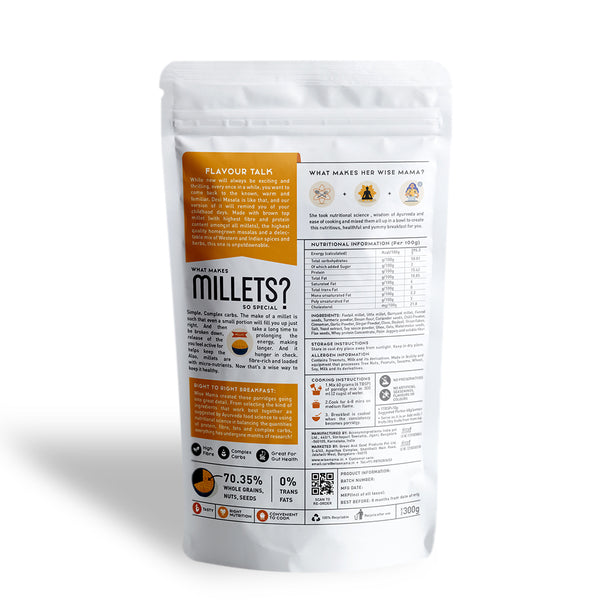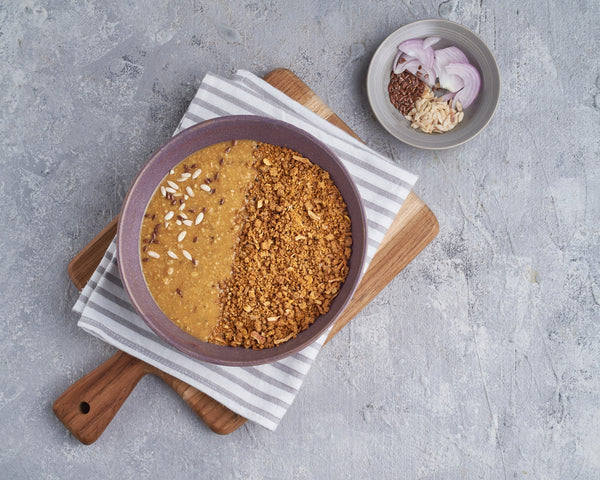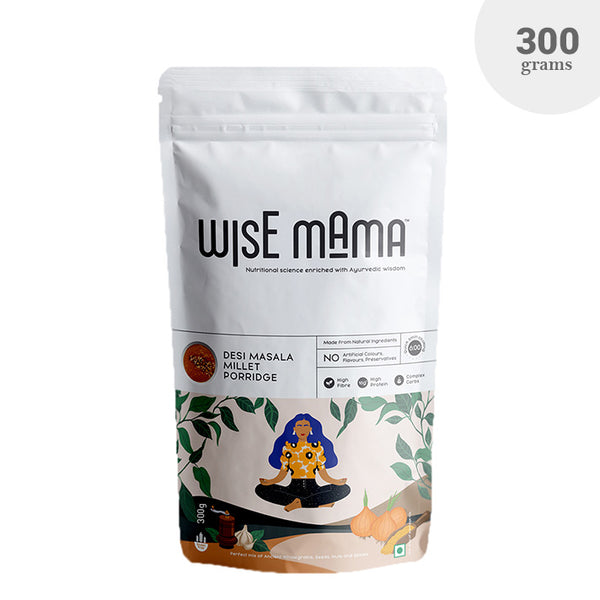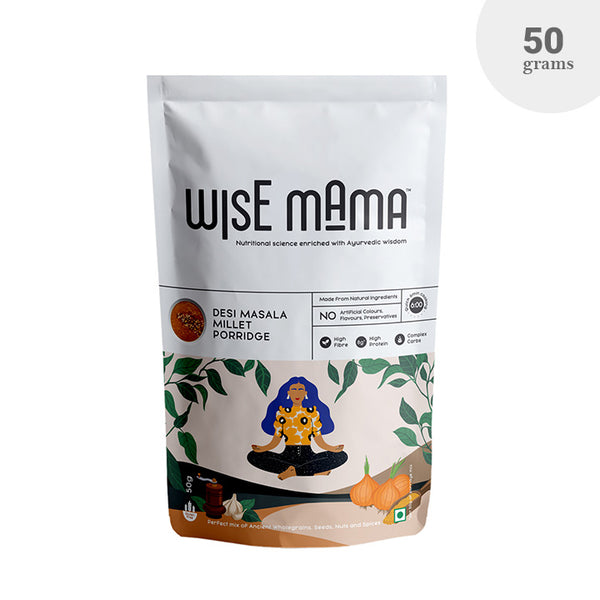 While new will always be exciting and thrilling, every once in a while, you want to come back to the known, warm and familiar. Desi Masala is like that, and our version of it will remind you of your childhood days. Made with brown top millet (with highest fibre and protein content amongst all millets), the highest quality homegrown masalas and a delectable mix of Western and Indian spices and herbs, this one is unputdownable.
Ingredients
Oats (20.2%), little millet (17.6%), barnyard millet (17.6%), foxtail millet (15%), ghee (5.6%), fennel seeds, turmeric powder, besan flour, coriander seeds, chilli powder, cinnamon, garlic powder, ginger powder, clove, bay leaf, onion flakes, salt, yeast extract, soy sauce powder, watermelon seeds, flax seeds, whey protein concentrate, palm jaggery, soluble fibre.
Nutritional Information
| | | |
| --- | --- | --- |
| Energy (calculated) | Kcal/100g | 395.37 |
| Total carbohydrates | g/100g | 58.81 |
| Of which added Sugar | g/100g | 2 |
| Protein | g/100g | 15.62 |
| Total Fat | g/100g | 10.85 |
| Saturated Fat | g/100g | 4 |
| Total trans Fat | g/100g | 0 |
| Mono unsaturated Fat | g/100g | 2.2 |
| Poly unsaturated Fat | g/100g | 3 |
| Cholesterol | mg/100g | 21.8 |
| Sodium | mg/100g | 1845.5 |
Cooking Instructions
Cooking instructions: Suggested Portion size = 60g (6 tbsp) of porridge mix.
1.Boil 2.5 cups of water for every 1 cup of porridge mix.
2. Add porridge mix to boiling water.
3. Cook for approx 6 mins on medium flame, stirring freqently to avoid lumps.
4. Serve as is or add fresh coriander/garnish on top

*Shake before use
Storage Instructions
Store in cool & dry place away from direct sunlight.
Keep away from moisture.
Allergy Information
Allergen information: Contains treenuts, milk and its derivatives.
Allergen Alert: Made in a facility and using equipments that process treenuts, peanuts, sesame, wheat, soy, milk and its derivatives.
Being a working professional, Wise Mama provided a quick respite from cooking a meal in the morning. It is easy to cook; just leave it on the gas and the rest is taken care of in a few minutes. I found it healthy and tasty, providing satisfaction to my pallette. The variety offered helps me choose what I am in the mood for that morning, something sweet or something spicy or...you get the hang of it. I do have a favourite though, it is nuts and berries with plenty of crunchy nuts!
Divya Rajkumar
Very tasty and nutritious way to begin one's mornings. Wholesome flavorful breakfast! Best wishes to the team.
Ravi Nawal
I tried many varieties of breakfast options from Wise Mama and was pleasantly surprised that something which is so healthy can be this tasty also. I will certainly recommend these products to all.
Nishant Jain